Tetra4D hat seine Produktpalette erweitert:
Welche Funktionen die 3D PDF Tools Converter, Animate, Publish und Compare beinhalten und wie sie arbeiten, können Sie bei der tekom Jahrestagung vom 23. -25. Oktober in Wiesbaden an Stand 807 in Halle 8 erleben.
Unsere Experten stehen Ihnen für Fragen ständig zur Verfügung. Zudem können Sie die eLearning-Unterlagen für Tetra4D 3D PDF Tools ab Oktober auch in Deutsch erhalten.
Tetra4D und SQUIDDS – VAR für D-A-CH freuen sich auf Ihren Besuch.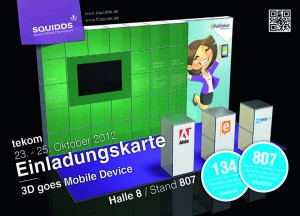 Filme, Blog, Tipps & Tricks finden Sie auch unter www.WORKFLOWblog.de/?cat=4
Tagged as:
Published by squidds.de in: News
If you like this blog please take a second from your precious time and subscribe to my rss feed!