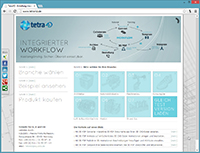 Die deutsche Website tetra4d.de geht an den Start und zeigt Beispiele aus allen Branchen. Sie wächst täglich, denn ständig entstehen mit unseren Experten kundenspezifische 3D PDF Templates, Abläufe, Programmierungen und Workflow Lösungen, die wir nicht nur als 3D PDF, sondern auch teilweise als Video zur Verfügung stellen können und dürfen.
Mobile Links sind teilweise zusätzlich verfügbar, um auf Smartphone oder/und Tablet das 3D Objekt zu betrachten. Zu manchen Tetra4d Werkzeugen sind jetzt auch die Tutorials in Deutsch verfügbar und dienen zum Selbsttraining, ebenso wachsen die Einträge  mit Tipps & Tricks im WORKFLOWblog.de.
Tagged as:
Published by squidds.de in: News
If you like this blog please take a second from your precious time and subscribe to my rss feed!