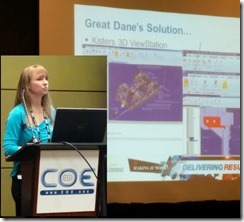 Im Rahmen der COE, der US-amerikanischen CATIA User Konferenz, hat Jennifer Frady von Great Dane Trailers deren MBD (Model Based Definition) Implementierung vorgestellt. Great Dane nutzt in diesem Zuge die Kisters 3DViewStation und CATIA Modelle mit 3D-Annotationen, sogenannten PMIs, mit Hilfe von Templates in 3D-PDFs zu konvertieren und so in der Prozesskette zu nutzen.
Hier geht es zum vollständigen Artikel.
Kontakt:
KISTERS AG
http://viewer.kisters.de/3DViewStation
sales-viewer@KSTERS.de
http://blog.kisters.de
http://www.youtube.com/user/KISTERSViewer
Tel. 02408-9385-517
Tagged as:
Published by Germar Nikol - Kisters AG in: News
If you like this blog please take a second from your precious time and subscribe to my rss feed!