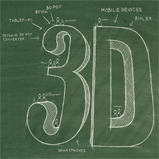 Lassen Sie sich das 6. SQUIDDS Kamingespräch am 29. Februar 2012 auf keinen Fall entgehen! Diesmal beleuchten wir exklusiv das Thema "3D Lösungen in der Technischen Dokumentation und für mobile Endgeräte".
Unsere Experten zeigen Ihnen die Vorteile und Einsatzmöglichkeiten und reflektieren gemeinsam mit unserem Kunden Bihler die enormen Potenziale für die Technische Dokumentation.
Agenda (Auszug):
Mobile Technische Dokumentation mit 3D
Tetra 4D (3D PDF Converter) vs. SAP (Visual Enterprise Author) vs. 3DVIA
Bihler: Erfahrungsbericht aus Sicht des Anwenders
Der Weg zur eigenen App: WebWorks REVERB macht es möglich
Ihre Einladung mit Programm zum Download (http://bit.ly/ziZrkf).
Anmelden/Registrieren per E-Mail (mailto:kontakt@squidds.de).
Sie können davon nur profitieren.
Wir freuen uns auf Ihr Kommen! Laden Sie auch Kollegen mit ein!
Georg Eck (Adobe Certified Expert)
Tagged as: 3D, 3D PDF, 3dvia, Android, Deep Exploration, FrameMaker, Galaxy, iPad, mobile devices, REVERB, SAP, tetra4d

Published by squidds.de in: News
If you like this blog please take a second from your precious time and subscribe to my rss feed!